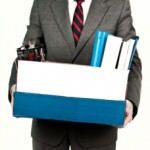 Losing a job is one of the most stressful events in life. It takes a heavy toll on your emotional and physical health, as well as your financial wellbeing. Job security has been eliminated and now everyone must anticipate suffering job loss, stress, and bouts of periodic unemployment.  
Downsizing destroys social networks. When you are laid off, your entire personal network of internal and external relationships is disrupted. Those who survive now must learn how to work in the downsized organization, how to tell when jobs are in jeopardy, and how to secure new jobs.
Are jobs in jeopardy? The answer now is yes. No matter how well your firm is doing or whether it has downsized before, this current recession means that all jobs are at risk.
The most successful people have always built good relationships. They thrive in the downsized organization because they have deep and rich relationships with the people in their networks.
A solid network of good relationships makes you a more valuable contributor (and thus lowers your layoff odds) and gives you more information more quickly about new openings inside and outside the company.
So what can you do to reduce your risk of being laid off?
1. Build and manage cooperative relationships with your superiors, subordinates, and peers around the company.
2. Get out of your "silo" and build bridges with other departments, functions, and divisions.
3. Become a team builder and an active member of multifunctional teams.
4. And last but not least, initiate and nourish external relationships with customers, suppliers, and even competitors.
But what if the worst happens and you must find a new job? More than 75% of all white-collar workers and nearly 100% of blue-collar ones find jobs through personal networks, according to several studies. In addition, people who use networks get better, higher paying, more satisfying jobs that they keep longer.
The time to build your networks is now. Start constructing your network immediately even if your position isn't currently in jeopardy. Many people never take the steps to build strong internal and external networks and, when downsizing strikes, they lack the personal contacts needed to find new employment.
The best time to build contacts is when you don't need them…
Article Source:
http://www.bestmanagementarticles.com
http://network-management.bestmanagementarticles.com
About the Author:
The Balanced WorkLife Company is dedicated to helping the best get better. Our programs give you access to tools and methodologies that allow you to break through the barriers and achieve your goals while also helping you enjoy a balance between and within your job, your career and your personal life. To learn more, visit www.balancedworklife.com and download our free report "The 16 Most Common Networking Mistakes to Avoid".